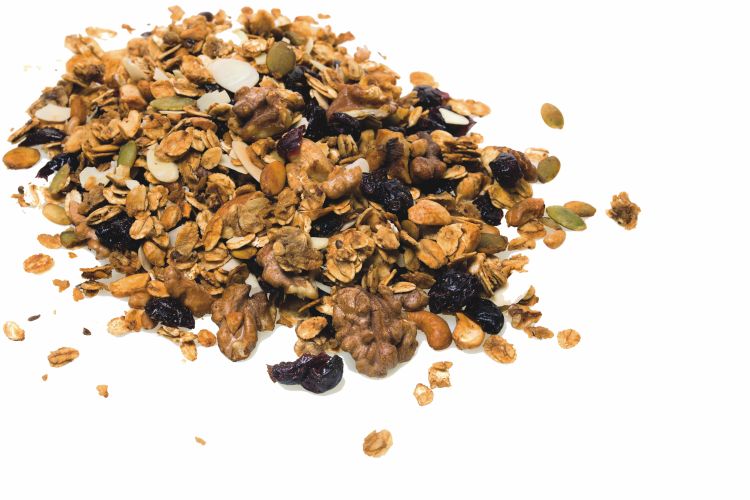 Ingredients
4

cups

Old fashioned uncooked oats

3

cups

Assorted nuts

1/2

cup

Beta Glucan

1/4

cup

Light brown sugar

1/4

cup

Vegetable oil

1/4

cup

Sugar-free maple syrup (can substitute honey)
Instructions
In large bowl mix the oats with the assorted nuts and Beta Glucan.

In small sauce pan cook the brown sugar, vegetable oil and sugar-free maple syrup over medium heat, stirring often until mixture is clear.

Add cooked mixture to large bowl of oats and nut mixture. Stir until thoroughly mixed.

Spread mixture evenly onto 2 lined, rimmed baking sheets.

Bake at 325° for 25-30 minutes, stirring occasionally.

Remove from oven, let cool and enjoy.
Notes
Franco's slight twist:
Add an additional ¼ cup of light brown sugar, ¼ cup of vegetable oil and ¼ cup of honey to bind the oat mix a little more; especially, if you want to make granola bars. Add one cup of raisins to the oat granola mix.  Lay the mix onto a baking sheet and flatten just lightly.  Once the oat granola is in the oven, turn the baking sheet around after 10 minutes to prevent one side from baking faster than the other.  Put the oat granola back in and bake another 10 minutes.  Take the oat granola out and sprinkle ¼ cup of chocolate chips while cooling for 3 to 4 minutes.  Before the chocolate chips can melt, put the sheet into a freezer for about 30 minutes.  Take out and cut granola into bars as desired.